2016 In Review
Janet Coyle looks back on a busy year, helping our companies to go to grow
As we have now come to the end of 2016, I wanted to thank all our mentors, stakeholders and other supporters of the Mayor's International Business Programme.  Following our launch earlier this year we have had an incredible response from scale ups on the programme, from our mentors in cities around the globe and from our network here in London.  I feel blessed to be in a city that has such a strong ecosystem to collaborate and support scale up companies and help them thrive and successfully compete on the world's stage.  We have been playing a key part in this eco-system to help tech, life sciences and urban companies to meet their ambitions in expanding their client bases, networks and investment deals in key international cities.
So how have we supported our companies on the programme so far in 2016?
We have held 8 international Trade Missions in San Diego, San Francisco, Chicago, New York, Cologne, Barcelona, Helsinki and carried out business visits to China and India supporting over 70 companies to raise their profile and build international customer bases.  The missions so far have focused on Edtech, Biotech, Gaming Tech, Female Founders, Smart Cities and Data and Enterprise.  The International Mission to Chicago and New York in September was led by the Mayor of London, Sadiq Khan, and the Deputy Mayor for Business, Rajesh Agrawal.  We are gathering the valuable outcomes from this international activity and will be able to share with you later this year.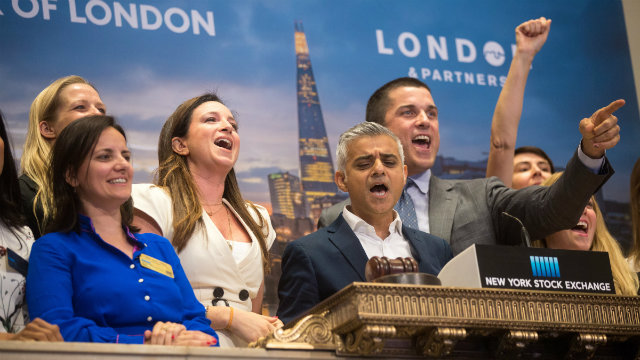 We have also run monthly "Meet the Mentor" round tables and a number of bespoke workshops to help prepare our companies for entry into new markets.
We have received some great feedback from the companies that we have supported this year including the following quotes: 
"From the get-go Screendragon was wholly enthusiastic about being part of the Mayor's International Trade Mission to the U.S. The opportunity to expand our presence in the U.S. It couldn't have come at a better time and we were very keen to make the most of the trip. Thankfully, our expectations were exceeded tenfold  – not only have we further developed ties with our U.S. customer base, the level of publicity that Screendragon has garnered from the trip has proved extremely advantageous. Much thanks to the Mayor and London & Partners for inviting us to be part of such a worthwhile trade mission." Jan Quant, CEO, Screendragon
"Go to Grow is just what SEaB Energy did!  The draw to the events organised by London & Partners, surpassed our every expectation.  The trip has had immediate impact on our fund raising round, bringing new money to the table. In addition to funding, the new partners, access to the HUB at Grand Central, and press coverage are creating a wave of opportunities which can only help SEaB Energy to scale faster." Sandra Sassow, CEO, SEaB Energy
Looking forward
We are now turning our attention to 2017 and planning out activity based on the discussions we have had with our cohort of scale ups over the past months.  One addition we are particularly looking forward to is a monthly Meet the Corporate roundtable. Similar in format to our monthly Meet the Mentor sessions, these events will give CEOs on our programme the chance to connect with corporates working in their sector and ask them burning questions in an informal setting.  Our first Meet the Corporate took place last week with Universal Studios and Comcast and was very well received by our cohort members. 
We have exciting plans for international visits to cities across Europe, India, China and US with our first one of 2017 being a Fintech Mission to Atlanta in February.
How can you continue to help?
Please continue to introduce us to scale ups in your network who are looking to expand their business into international markets and would benefit from our support.  They can register on the website but also happy to chat to them first if helpful.  Please also follow us on Twitter and on LinkedIn.
Wishing you all successful and prosperous New Year and look forward to sharing more exciting updates later this year.