2018 Successes
Our cohorts have expanded into new territories and markets, created jobs, and strengthened their management talent and finances.
2018 was a banner year for the cohort members of the Mayor's International Business Programme: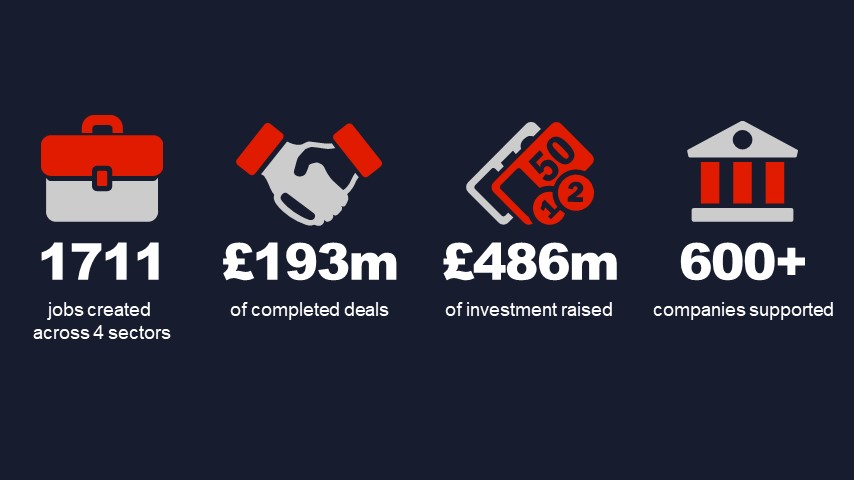 Cohort members key stats in 2018:
95% - Created new jobs in 2018
80% - Signed new deals and entered into new markets 
43% - Secured funding in 2018
2 in 4 - Opened new offices
To date the Mayor's International Business Programme have supported over 600 high growth London companies to win business in international markets.
Diane Young, CEO and co-founder of The Drum, discussing the benefits of the Mayor's International Business Programme and why London is a magnet for creative thinkers.
Our inaugural London Business Awards shone a light on success and innovative excellence across London's business community, celebrating the growth and achievements of all the companies that are proud to call London their home. The Awards recognised a number of categories to encompass the accomplishments of businesses and key individuals over the past 12 months, celebrating the creativity and diversity of London business and ambassadors building London's reputation for tomorrow.
Testimonials
"As a business owner, you get used to people or growth schemes overpromising and mostly underdelivering. The Mayor's International Business Scheme has been the single best piece of external support that Hiver has had since launch. It is well structured, incredibly lean and well organised and output focused."  Hannah Rhodes, Hiver Beers
"We've been working closely with L&P LA office over the last year. We found it extremely helpful to have an accelerator who understands the potential issues and risks that occur setting up an office in the US. The mission was super relevant. GREAT introductions to the major studios and other potential Partners and Clients. We expect concrete businesses to come out of this mission. Three potential opportunities already detected AND hopefully we'll convert them into ACTUAL business." Diego Rosner, Nexus Studios

"Casual Films has been on three trade missions with London & Partners - to Seattle & Vancouver, Toronto & Chicago and most recently Nashville.  The missions have been vital to the growth and success of our North America operations.  We've been trading in the US for about 7 years now, and have recently opened an office on the West Coast.  The support, connections and business opportunities that have come from the trade missions we've attended have been instrumental in us being able to grow the US business to double the revenue of our UK business in a very short space of time. I came home from the last trade mission with several very strong leads which I'm confident we can convert into business.  I also feel much better equipped with the knowledge and connections I need to consider opening another office in the US - not necessarily Nashville, but we're considering Los Angeles or Chicago as a result of the trade missions." Barnaby Cook, Casual Films

"The Mayor's International Business Programme has had an extremely positive and immediate impact on Wi-5's global expansion. Access to world class mentors with extensive experience, expertise and contacts within the verticals and territories we are targeting has facilitated the making of swifter and
bolder decisions. Similarly, being put in a room with relevant stakeholders from key corporate prospects has allowed Wi-5 to engage billion dollar multinationals at a far earlier stage than expected. All of this has brought forward numerous plans and quickened the international growth of the business." Prask Sutton, Wi-5 Technologies Ltd
Awards
The Programme has been recognised as "Best in Class" for an international export programme by the UK Scale Up Institute and won "Growth Business Enabler of the Year" at the 2018 Startups Awards