Case Study: Tevva Motors
Cohort member Tevva Motors is entering the Chinese market by working with a local partner.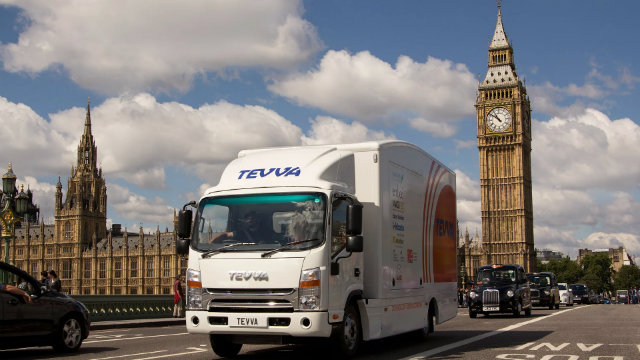 The company
Tevva Motors is shaking up the logistics industry. The clean truck technology company has developed a range of electric range-extended vehicles which meets the environmental needs of modern legislation, whilst delivering full low emission benefits and cost savings for fleet managers.
Their ultimate goal is to deliver a sustainable alternative to diesel-only trucks in the £4.5bn back-to-base urban delivery segment, giving fleet managers a lower total cost of ownership (TCO), while maintaining operational efficiency and reliability, albeit with zero tailpipe emissions.
International expansion
2016 saw the business emerge from being a pre-revenue, IP-rich startup to a growth company with a solid order book. Last year, the company completed a successful one-year operational trial of a prototype vehicle within the UPS fleet. It expanded operations into new premises in Chelmsford with the capacity to build 2,500 vehicles per annum.
The business currently works with UPS, DHL and Kuehne+Nagel and has ambitions to grow internationally.
Asked why international expansion is so critical for the business, Tevva's sales and marketing director David Thackray explains: "The UK market is in the order of 15,000 vehicles in the weight classes we presently produce – but that is less than 2% of the global market. China represents an enormous opportunity not only because of its size, but also because of the speed with which it is embracing clean technologies
Route to market: working with a local partner
In preparations to grow overseas, Tevva sought a local partner in China. David explains, "We're a disruptive technology. An established manufacturer in Europe wouldn't want to partner with us."
For this reason the company looked at logistics giant, JAC – the second largest truck manufacturer in China. As part of the partnership, Tevva's electric powertrain will be incorporated into their production line, making them a Tier 1 supplier to JAC.
The partnership goes two ways – JAC hopes eventually to be able to supply Tevva and break into the European market. Whilst it's still early days, David is confident the venture will prove a success. "From an investor standpoint it's makes us hugely more investable with a partner like JAC on board."
The company is currently seeking other partners to work with, including Hitachi Capital – whom they were introduced to via Mayor's International Business Programme mentor, Ed Harding. The Hitachi partnership will provide full repair and maintenance lease for Tevva's clients making it much simpler for clients to justify using electric vehicles. Everything will be "baked into one simple monthly number", explains David.
And there are hopes that Hitachi won't simply be a delivery partnership in future. "There's a potential for them to become a channel partner and for us to sell into their existing client base," says David.
"You can never do too much networking. And if you mix with people who also run high-growth, high-ambition businesses, you are simply bound to learn a huge amount."
David Thackray, Tevva Motors
Programme support 
Since joining the Mayor's International Business Programme in 2016, Tevva has made full use of the support on offer. CEO Asher Bennett spent much of 2016 in China including joining a Mayor's International Business Programme trade mission to Shanghai, which helped to develop the networks and profile of Tevva.
"Even though I had initial access to China, within a few months of joining the programme a whole new level of access opened up," says Asher. "It introduced me to a whole level of contacts in this important market."
They also joined the #LondonisOpen trade mission to Madrid with Deputy Mayor for Business Rajesh Agrawal in March 2017. With Madrid committed to being diesel free by 2025, it was an obvious choice for Tevva.
Since attending the mission, the company has had follow up calls with Ferrovial as well as Endesa and is hopeful for a fruitful outcome. "The extent to which the mission to Madrid catalysed our relationship with Ferrovial is immense. You can't buy that level of introduction," says David.
Looking forward
In addition to Spain and China, the company also has its sights on the US. With fiscal incentives for electric goods vehicles available, Tevva is considering doing business in the states of California, New York, Washington and Oregon.
As their international growth journey continues, the company will be drawing upon support from London & Partners. "You can never do too much networking. And if you mix with people who also run high-growth, high-ambition businesses, you are simply bound to learn a huge amount," says David.