Female Founders International Visit: Day 1
Sarah Kerruish, Chief Strategy and Growth Officer of TrialReach, explains why Silicon Valley is the global epicentre for entrepreneurship
Small, thoughtful acts of kindness and connections make the world go round. No where is this more evident than in Silicon Valley. This unique ecosystem is famous for those like Elon Musk, who are crazy enough to think they can change the world and actually do. It is also legendary for investors who make the big bets on big ideas. But it's the culture of generosity here that, I think, makes Silicon Valley the global epicentre for entrepreneurship.
Here's what I mean. You can't have a meeting here without people offering to introduce you to other people in their network. They don't need to know you well. They don't even need to believe that your idea will succeed. But if they think there is any merit in what you are trying to do, they will help you. It's a karmic currency; in most cases there's no expectation of any immediate reward, just the certainty that, at some point, others will help them in the same way that they have helped you.
Today is a perfect example of this. As part of the delegation of British Female Founders visiting Silicon Valley, I was asked who I would most like to meet during the trip. I didn't need to think about it. I wanted to meet Ian Clark, the CEO of Genentech, to see if he would support our mission to advance medical research by transforming the way patients find and access clinical trials. It was an audacious request. Why would the CEO of the world's best known biotech company meet with a small, London startup? And yet, thanks to the incredible efforts of Janet Coyle who is leading this mission, Ian agreed to meet with us today. He couldn't have been more gracious or encouraging and at the end of the meeting, in true Valley style, Ian offered to introduce me to some important contacts in this space.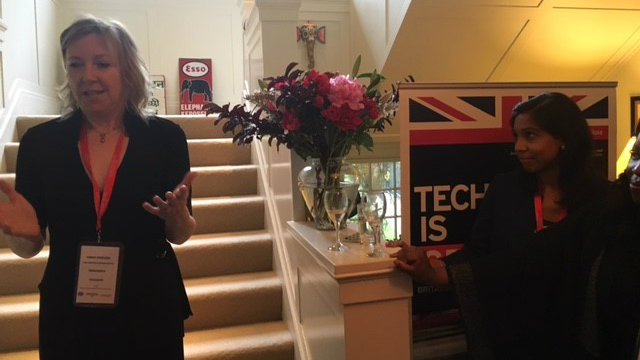 The same thing happened again this evening. Priya Guya, the British Consul General in San Francisco, hosted a reception for the fifteen women delegates at her official residence. We were each invited to speak for 30 secs about our companies and to make a 'wish'. You can see these remarkable and compelling testimonials here. Some of the founders such as Dupsy Abiola, founder of Intern Avenue, and Sandra Sassow, CEO of SEaB Energy, want to connect with investors. Emily Forbes, Founder of Seenit, and Caroline Plumb, Co-Founder of Fresh Minds, are hoping to meet potential customers. But no matter what the wish, we were all approached afterwards by VCs and entrepreneurs offering help and connections.
I don't think there is any other place where you could, in one day, be offered introductions to ten of the world's best known VC funds and life science companies. It was an extraordinary reminder of why the Valley is such a special place and how lucky I am to be here. 
You can't bottle it and you can't sell it but, nonetheless, I am a firm believer that the generosity we experienced today is changing the world, one introduction at a time.