Female Founders International Visit: Day 2
Sarah McVittie, Co-Founder of Dressipi, shares the insights she received from Facebook's Sheryl Sandberg whilst on the Female Founders Mission to Silicon Valley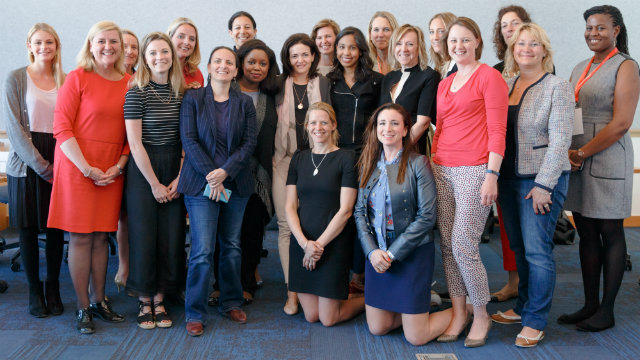 Firstly I have to say it has been an incredible day! And, we got to meet Sheryl Sandberg (amazing!)
We started the day at the British Consulate General with very helpful insights from British entrepreneurs who have moved over here to build their businesses – all amazing individuals with great businesses:
• Rahul Vohra (Rapportive and Superhuman)
• Sam Chatterjee (Class Dojo)
• Alastair Paterson (Digital Shadows)
• Peter Flint (Trulia)
• Jenna Bray (TribeSports, ThreadUP)
• Julian Gay (Xendo)
• Sheetal Walsh (MetaCert)

Our conversation centred on some of the cultural differences but also (obviously) around investment. A couple of insights that I found really interesting:
You need to have an elevator pitch for yourself as well as your business
Your personal story is important and people really want to know and understand how you have ended up where you are. 
Pay it forward
People in the valley love to help and connect and genuinely want to see you and your business succeed. Be direct and ask for the contacts or advice you are after.
Everything happens in 90 day cycles
Everything happens faster, it's a much quicker turn around and most people will have 30, 60 and 90 day plans.
Don't allow relationships with potential investors to be a one way street
There is no harm in some good reverse pitching. Even before you start your pitch, make sure they are the right people for you and that they can genuinely help you achieve your goals, whilst being able to keep your values intact.
Be wary of investors who ask 'Who else is in?'
It is now possible to harness the smarts and investment of SV without necessarily needing to completely relocate
For many of us with children and families this was great to hear.  It is undeniably an infectious place and the benefits that your business will gain from this drive, ambition and mindset are palpable.  It is good to understand how these entrepreneurs have managed their time - they have offices in both locations but have not necessarily moved the entire team over here.  I asked this question a number of times during the day to different audiences and got a very consistent response from everyone.
We then headed over to Facebook's HQ and were all blown away by their stunning campus (9 acres of rooftop terrace with 150 different species of plants).  Very striking was their sense of common purpose – it really does transpire in everything that they do. 
But, the highlight for most (all) of us was meeting Sheryl Sandberg - lovely, funny down-to-earth and very inspiring. 
The day came to a close with a great reception at the Battery hosted by Alexsis de Raadt.  We received yet more great introductions and brilliant advice from seasoned investors and entrepreneurs, helping us navigate the very unique ecosystem that is Silicon Valley.
Just as I was heading back to the hotel, I got sidetracked by Dana (on the hunt for the perfect Kir Royale) and ended up on a mini roadtrip with her and Jeffrey to the Golden Gate Bridge – another truly incredible innovation of its time – an engineering feat that no one thought possible until it was.