Female Founders International Visit: Day 3
Two Nations United (not divided) by a Common Language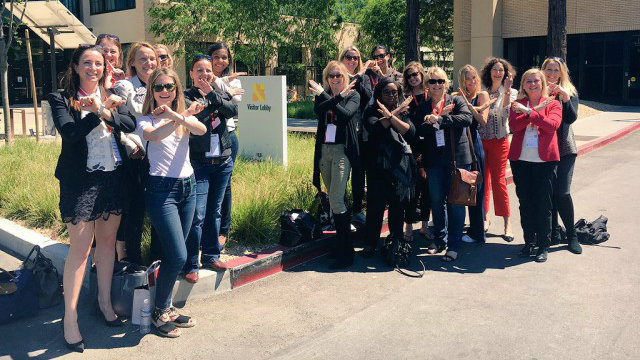 To quote a line from Beyoncé's infamous anthem 'Girls Run The World', "My persuasion can build a nation." It feels somewhat apt this week.
On day two of the SVC2UK female founder's mission, I find myself in the heart of Silicon Valley surrounded by a group of British entrepreneurs who, like me, are building nations. Disruptive, innovative, scalable, inspiring republics – businesses in sectors as diverse as education and retail, consumer and enterprise – thirsty for knowledge that can help fuel our collective intention to move forward and evolve. And that knowledge was provided to us in spades by the women who hosted us today: Women who have already built nations.
By breakfast we had heard from Julia Jartz (Eventbrite Co-Fo and CEO), Julie Hanna (Kiva's Chair), Xochi Birch (Bebo Co-Fo) and Selina Tobaccawala (Ex-President and CTO of Survey Monkey).
By lunch, we were inside the infamous walls of X, formerly known as Google[x], hosted by Obi Felten. The team behind self-driving cars, self-flying delivery vehicles, smart glasses, smart contact lenses, energy kites and balloon-powered Internet, they work on solving large problems in the world with technology.
And by tea (well, we are British and yes, there was cake) we visited the newish offices of British unicorn Blippar hosted by their co-founder and fellow female missionary, Jess Butcher. All this, after meeting Sheryl Sandberg yesterday. It's been an extraordinary 48 hours.
Oscar Wilde (and other Brits such as Bernard Shaw and Churchill) are quoted as having said that "the Americans and the British are identical in all respects except, of course, their language" but today I was reminded how wrong they all were.
In amongst all the visits, conversations and Q&A's, the many commonalities between our US hostesses and those of us visiting from the UK were apparent. Firstly, entrepreneurs are relentless. We are all relentless. As Obi reminded us, Newton's first law of motion states that an object in motion will stay in motion. There is no inertia in the SVC2UK group and the drive by both our hosts and my fellow founders to evolve is obvious.
As Julie Hanna noted, entrepreneurs are all great change agents, obsessed with manifesting our dreams as sustainable entities. Whilst our businesses are nowhere near the scale of the companies and people we heard from today, we are all moving forward fearlessly (well, fearlessly-ish) towards our respective goals – the sustained growth of our sustainable entities. Different journeys; different challenges; same destination.
And we all speak a potted version of the same language: Entrepreneurship. It's a universal dialect. I know I speak for all of us when I say we were able to identify with the comments, quips and anecdotes of our American hostesses. To different extents, they understand our journey even if we didn't have the opportunity to articulate all of our challenges.
Britain and America. Two nations of business women: One breed of entrepreneur. Today reminded me that we are divided only by an ocean and certainly not, as Wilde would have us believe, by language.