International Visit to Chicago & New York Blog: Day 1
Jon Chapman of Fixflo shares his experiences of day 1 of the mission to the US
4 Events and a Man Suffering from Jet Lag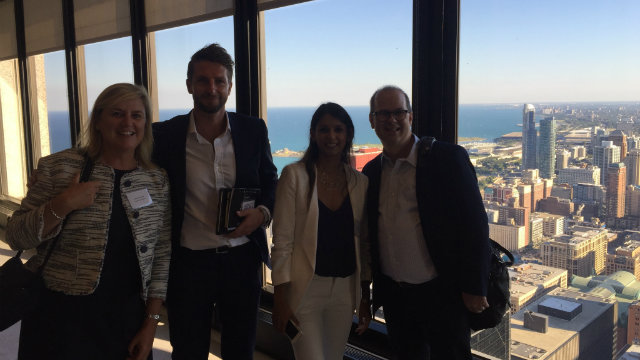 The jet lag results in a 4am wake up call but that is put to one side as now the working starts!
The day started with a trip to the Mill, a special effects company with origins in London Soho, and now has 800 employees across offices in LA, New York and Chicago.
It was clear from listening and speaking to Christina, Luke and Collette that this very successful business has been built on an impressive culture that has come from the founders and stayed consistent for 26 years. Hire the best people, develop and motivate them and anything is possible, including an Oscar!
Whilst they have a clear philosophy on culture and recruitment, their business is very flexible with the expansion into other verticals to meet demand, a great example with Mill Plus.
Moving across town, the next event was a trip to the Global Cities Business Alliances event sponsored by MasterCard. The panel session focused cities and tech businesses working better together. The importance of these different entities collaborating to allow cities to better service their communities and taxpayers whilst supporting tech companies in growing and developing their propositions.
The word 'ecosystem' was mentioned on a number of occasions and this continued into the third event which was hosted by Dean Debaise, co-founder of 1871, a large tech incubator in Chicago.
The panel session included representatives from Siemens and United Airlines.
Their top tips for tech companies looking for investment or partnership with corporates were:
Make sure your financial plan stacks up
There is a strategic fit with the corporate
Make the right connection
Have the right talent
Tips to get noticed, as corporates are becoming more aware that they need connections on the ground to identify these tech businesses:
Utilise any networking events to make connections
Maximise relationships with existing suppliers
Join communities to help extend your network
The day then finished at the Illinois Tech Association Awards at Morgan Manufacturing. Clearly a tech awards based on the number of Tesla's in the parking lot.
With around 600 attendees this was one of the tech events of the year with some hugely successful businesses represented including Uptake a $1bn business. These events are so important to celebrate the success of a sector and nurture discussion, collaboration and relationships.