International Visit to Chicago & New York Blog: Day 2
Emma Sinclair, co-founder of EnterpriseJungle, gives an overview of day 2 of the mission
Can't Touch This: MC Hammer song or invaluable business lesson?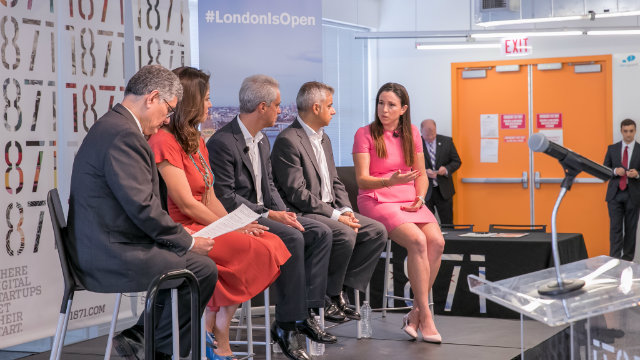 Intangible benefits. Items that are incapable of being perceived by touch. Subjective benefits that cannot be defined in monetary terms. That arguably cannot be defined at all.
Annie Lennox gave us "Money Can't Buy It.' Luther Vandross and Janet Jackson gave us 'The Best Things in Life are Free.' And MC Hammer gave us the infamous 80s hit 'Can't Touch This.'
I give you 'Intangible Benefits: The Story of our Trade Mission'. Not quite the same catchy ring to it and unlikely to be a chart hit but for me, it was the key outcome of my day in Chicago. And a key message I have for the Mayor's Office as to why trade missions are so important for businesses such as EnterpriseJungle and the rich treasure chest of other enterprise entrepreneurs I've been fortunate enough to travel with on the Mayor's Trade Mission.
Put simply, we are often judged and regularly influenced and inspired by the company we keep.
On Friday, I had the honour of sharing a stage with the Mayor of Chicago, Rahm Emanuel, and the Mayor of London, Sadiq Khan. We discussed the importance that city infrastructure and policy play in retaining and nurturing talent. We celebrated the naturally symbiotic relationship between high growth companies like mine and large companies who need our products. And we recognised the many proof points that point to the influence the public sector and local government have on the success of both.
Importantly, we also sent a clear message to Chicago that London is open. The city I was born in is an economic powerhouse and our tech community is built on the shoulders of thriving, high growth, ambitious entrepreneurs and companies who are feeding the world's strong appetite for innovation and intelligence. I am proud to be one of them.
En route to lunch I met Rajesh Agrawal, our Deputy Mayor for Business. By 2pm I had spoken to Sheila Penrose, London School of Economic graduate and now Board Director of companies such as McDonalds and Jones Lang LaSalle.
And it didn't end there. Dinner was spent at a magnificent reception hosted by Mayor Rahm. I sat next to Jean Case, the Chairman of National Geographic … and Steve Case. You know. The co-founder of AOL.
By the time I went to bed, the morning's panel and my comments on Brexit were aired on BBC News. I woke up to emails from target customers – who were proud and excited that EnterpriseJungle was on this trip and keen to continue conversations on my return.
That's what Friday did for me. That's how it helped our business. For all 30 of us, what we gained was an intangible seal of approval. By being included in this trade mission, by joining our Mayor, by being asked to represent London's high growth tech entrepreneurs, in meeting large corporates as part of an endorsed and publicised trip, we benefit from an unwritten warrant of approval. And that will open doors, give confidence to potential customers and most importantly, catalyse us doing deals that will help us scale.
Friday also extended my tribe: The collection of people I can call on who understand my journey, can share practical advice and lean on for support. It extended my network and as we all know, our net-work is our net-worth. This too is a huge intangible benefit.
For entrepreneurs such as myself and the other delegate who thrive on data, whose businesses are underpinned by data, emphasising an intangible might seem counter intuitive. It is often said that if it can't be measured, it doesn't count. I vehemently disagree and whilst I can't touch the magic of the trip, I am unquestionably watching it impact my business. And for that, I am truly grateful.
#LondonisOpen