International Visit to Chicago & New York Blog: Day 3
Robert Timms, Director of translate plus, reflects on the mission so far
London, Chicago & New York: Focusing on commonalities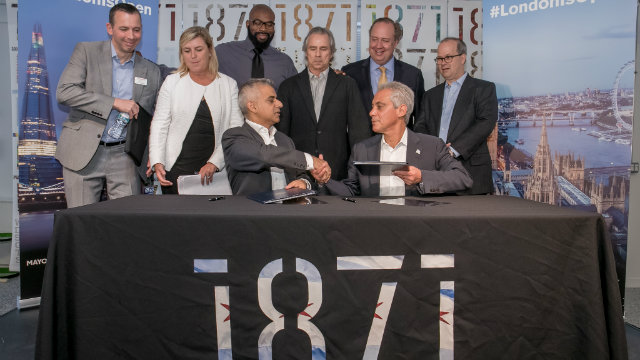 I'm at the half-way point of the Mayor's International Business Programme trade mission to the US, on a flight between Chicago and New York, so it feels like an appropriate time to reflect on the trip so far.
At translate plus, as a tech-enabled business-to-business language services company, we're all about helping our clients to grow internationally, by localising their apps, websites, documentation and whatever else they need to operate in a global marketplace.
With this trade mission, although the UK and the US share a common language, it's fascinating to be so directly involved in the process of overseas expansion. With over twenty other London scale-up businesses in the delegation, I've talked a lot to founders and CEOs about their ambitions and plans for the States.
The products and services offered by the London businesses vary greatly: there are fashion tech companies like Dressipi, ad tech companies like Eyetease, and fintech companies like Trading Hub. If I've repeated the word "tech" a lot, that's because it's one of the main things we all have in common. And commonality was an interesting theme discussed by the Mayor of London, Sadiq Khan, and the Mayor of Chicago, Rahm Emanuel, at an event held in Chicago's 1871 start-up incubator on Thursday morning. They are of two different faiths, both representing mayoral "firsts" for their respective cities, but Sadiq Khan made the point that it's important – in business and more generally in society – to focus on what people have in common, rather than what makes them different. For London, Chicago and New York those common strengths include not only technology, but also entrepreneurship and innovation more widely, with a growing opportunity for us to share ideas and collaborate.
I've found it interesting and rather inspiring to hear Sadiq Khan and Rajesh Agrawal, the Deputy Mayor for Business, talk up London's strengths as the best city in the world for business. They have been firing off some great stats:
London hosts 40% of the European headquarters of the world's top companies;
the UK has the lowest corporation tax among G7 countries;
57% of investors cite London as the top European city for Foreign Direct Investment
And alongside this the "home team" has been allaying any residual fears that the result of June's Brexit referendum might somehow put a damper on international trade and investment – by contrast, Sadiq Khan has been taking every opportunity possible to push the message that "London is open".
As we move on from the Windy City to the Big Apple, I'm looking forward to another few days of valuable networking and inspiring events. It might be hard to beat the views from J.P. Morgan's Chase Tower offices, or to outdo the hospitality of the British Consul General and Mayor Emanuel's team. But you can bet New York will try!
From an organisational point of view, the visit has been extremely well planned by London & Partners and the teams on the ground – so on behalf of translate plus I'd like to say a big thank-you to everyone for this great opportunity to fly the flag for London businesses.