International Visit to Chicago & New York Blog: Day 7
Janet Coyle, Principal Adviser for Growth at London & Partners, looks back on the incredible moments of the trade mission and asks...
Can you fit the magic of our mission into a bottle?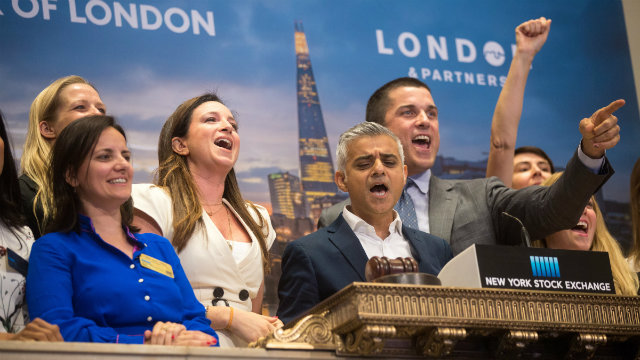 It is almost a week since we set off with our Trade Delegation of 30 scale ups to Chicago and New York with the Mayor and Deputy Mayor of London so keen to share some of my reflections and thoughts. 

This trip was always going to be historic.  It was of course our new Mayor, Sadiq Khan's, first visit to the US as Mayor of London.  A Muslim mayor – a first for us in London.  And he was flying to visit a Jewish Mayor of Chicago, Mayor Emanuel – yet another first. But it has been historic for many other reasons.

Diversity In Tech
For one, I'm proud to say this is the first time that 50% of such a large delegation were female founders.  When Mayor Khan took office in the summer, one of his first speeches was on the need for diversity in the tech sector:

"The capital is the most important tech hub in Europe with its vibrant mix of investors, talent and creativity. Although the sector is flourishing, it is vital that we actively encourage more girls to work in digital and tech to reverse the under-representation of women in this industry.  Our current female tech pioneers are the role models for the next generation and as the father of two teenage girls, I want them to have the same opportunities and aspirations. I am determined to work hand-in-hand with individuals and employers like these to nurture more young female entrepreneurs that will contribute to London's economic prosperity."

All the delegates on the Trade Mission, men and women, were leading high growth tech companies.  It was due to the quality of these companies that enabled us to open doors of key decision makers in Corporates and Cities and also helped us to showcase the superb talent we have in London.

Forging Partnerships
This mission has also been about forging partnerships city to city. London, New York, Chicago: three great cities with tech, entrepreneurship and innovation in common.  The generosity we experienced in Chicago and New York was off the charts, particularly with the introductions they made and access for our delegates to valuable new contacts.

In Chicago we saw the Mayor of London and the Mayor of Chicago sign an agreement to help boost trade links between the two cities.

In New York, came the announcement that WeWork would be doubling its presence in London by the end of the year and a partnership between London and the Grand Central Tech Hub to help our Urban companies have a "soft landing" when they look to do business in NYC.

Then there were just the general "wow" moments:
The closing bell ceremony at NYSE – an "EPIC career highlight" as described by Emma Sinclair, co-founder of EnterpriseJungle;
Introducing our delegates to decision makers in Corporates in Chicago and New York at our round tables and flagship events;
Hearing our Mayor of London talk so positively with the #Londonisopen messaging;
Watching #LondonisOpen light up as Pavegen launched their V3 smart tile technology for the US market at our New York flagship event;
Hearing our London companies deliver strong pitches to a room of high quality VCs kindly hosted by one of our Tech Ambassadors, Kathryn Parsons, in the Decoded smart NY offices.

It's been such a whirlwind of incredible experiences that, with the return to the UK, comes the potential bump as we all return to reality. If only - as one delegate mentioned to me recently - we could just bottle all this enthusiasm and confidence and boundless energy - and take it out for a sniff when needed.

But of course, it needn't end here.  With partners like World Business Chicago, JP Morgan, 1871, WeWork, Central Working and Department for International Trade all clamouring to help our companies go to grow, this mission is only the start in a long line of opportunities for growth in the US.

I, for one, can't wait to see what other achievements our companies will be celebrating in the coming months…watch this space!