International Visit to Europe: Day 2
Harpreet Bushell, Sales Director at True Clarity, gives an overview of the Paris mission
Sparking new opportunities in the City of Light
"From London to New York, Paris to Beijing, cities link together to form the nervous system of our global economy" said Sadiq Khan, Mayor of my hometown, London.
And if I was to take one thing away from today's mission in Paris, organised by his programme, it would be just how strong those ties really are.

Armed with just a Eurostar ticket, an overnight bag, and a generously filled thermos flask of coffee, I set off for Paris early morning with a caffeine fuelled spring in my step and a thirst for new opportunities.

At True Clarity, we have a strong background in creating websites for clients that really help to showcase their brands and drive revenue. So, when the Mayor invited us to his to take part in his Retail Tech mission, and be personally introduced to some of France's most iconic businesses, we grabbed it with both hands, feet and ears.

Thankfully to say, day one didn't disappoint, with a great mix of one to ones with corporates, amazing networking opportunities, and truly inspirational speeches.

Prior to the event, we were asked by London & Partners to provide a wish list of the top 5 companies we would like to meet while we were in Paris, and needless to say, they went above and beyond to deliver.

From Accor to Amazon, Carrefour to QVC, we were spoiled with opportunities to interact with some of France's biggest and brightest corporates, discussing how we could learn from each other, and ultimately create new business relationships that stretch beyond the Channel.

Following that, the doors were then opened at the British Residency for the mayoral business reception, featuring over 200 attendees, corporates, fashion houses, and publications like GQ and Vogue (Not forgetting a healthy serving of canapés and light liquid refreshment).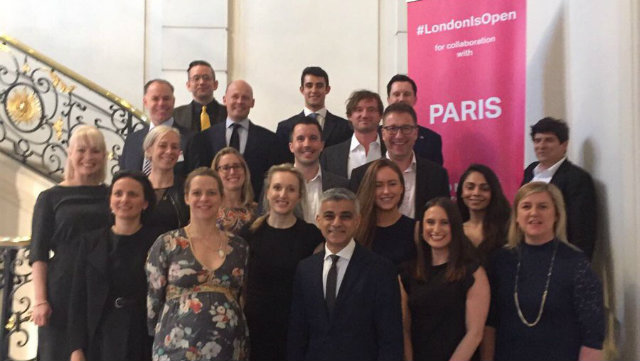 Following a whirlwind of introductions and business card exchanges, we were reminded by the Mayor just how important our intercity ties are, and how we all have a part to play in ensuring #LondonIsOpen, and remains one of the most entrepreneurial & innovative business centres in the world. Apt, given the event was hosted on the eve of Brexit.

To round off the night, the Deputy Mayor of London for Business, Rajesh Agrawal joined me and the rest of London delegates for dinner, to discuss the inspirational people we'd spoken to, the new exciting opportunities created, and ultimately what we could do to help each other going forwards.

Of course, 24-hours is never enough time to spend in great company, but it was lovely to meet the other delegates; seeing everyone taking a keen interest in each other's business, and helping each other spot exciting new opportunities along the way.

I think we all took away invaluable chances to work together, and provide support to each other in the near future.  

And so, as I top up on my dose of caffeine for day 2, I'd like to take the opportunity to thank the Mayor, London & Partners and our hosts in Paris for putting together what was an invaluable and incredibly inspiring mission.

No matter what side of the channel you're from, we all have to play our part in showing that #LondonisOpen. And thankfully, from my experience of today's events, it looks like it will take a lot more than Brexit to change that.