International Visit to Europe: Day 3
Damian Hamp-Adams, CEO of Rocketseed, explains the importance of going on trade mission for companies looking to expand overseas
Brexit, quel Brexit?

#LondonisOpen

…London – Berlin, Berlin – London, London – Paris and Paris back to London…BREATHE.


Yet again, the entrepreneurial spirit has been enlightened and it is down to individuals, partnership companies and a dynamic dose of support from the Mayor of London with his supporting teams at London and Partners, a programme that thrives on business growth.


The aptly named GoToGrow has done it again - delivered an international agenda full of big name influencers, (Mayor of London, Nutmeg, Carrefour, Capgemini, Made.com, Eileen Burbridge, major VC's among others), amazing settings (The British Embassy, Paris – if you ever have the opportunity to go, GO!)- I won't harp on but it really is an incredible set up and if your company qualifies, you will regret not applying.


Why? There is an abundance of why's - mentoring, hosted networking events, business support, the list goes on - but in order to avoid grief from my team about content being too long, I will give you the top 3.


Scope of the Corporate Network
We all know how it is right?...Cashflow I mean. What drives cash flow? Sales. Is there anything that sales can't fix?...Pretty much no. Entrepreneurs know how difficult it is keeping that engine full. One of the biggest obstacles is getting your business in front of your target company with a C level contact or possible champion.


With a substantial partner funding line and the power of the Mayor's office behind it, the Mayor's International Business Programme facilitates these introductions and helps scale-up business leaders get through the ecosystem of contacts to assist you getting to the right person…They even ask prior to international visits, 'Are there any target companies you would like to speak to?'...OH YESSS, as a bobbling bulldog would say.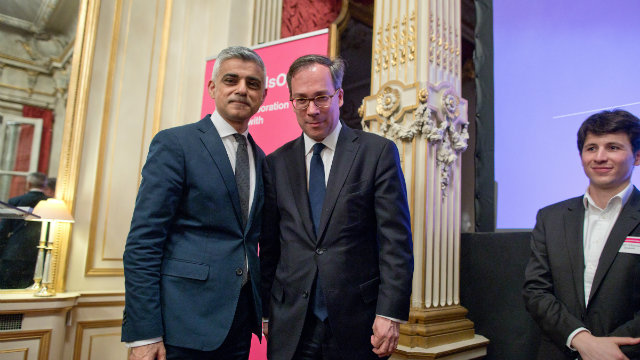 It's key you make sure you are 150% prepared. It's interesting to see that there are businesses out there growing like crazy with so much to offer who get their intro pitches wrong or undersell themselves! At Rocketseed we constantly endeavour to get this right, even then we know it still has to be better! So when you have the opportunity make sure to maximise it…be ready and target to the audience you know you are going to meet.

Problems you fix, growth rate, target audience, flagship clients & opportunity. That is what they want to hear about in the opening gambit and the simpler, the better.

Advice and shared economies
'Also known as shareconomy, collaborative consumption or peer economy, a common academic definition of the term refers to a hybrid market model (in between owning and gift giving) of peer-to-peer exchange' – thanks Wikipedia.

If you don't attend one of the Mayor's International Business Programme trips you really won't experience this 'why'. You may have read the previous blog http://bit.ly/2dfDp2S - worth a read as reminder but the crux of it is about 'paying it forward' and sharing.

I won't dive too deep here but there is an abundance of attendees on these missions, each and every one of them is willing to help each other in one way or another. It isn't just the help either, it's the constant buzz - 'have you spoken to Bloom and Wild about helping them with your Geouniq positioning tech', 'Can we sit down and go through our positioning story?' or 'How did you address these problems in your business and overcome these obstacles?'. 

It isn't just the intra-group activity I pick up on but a sense that each cohort member has got their fellow members' backs when it comes to networking events. There is constant cross referral to other companies in the cohort - 'have you spoken with Michael from Poq…they help companies forge closer relationships with their customers' – ok, that is just one example but you get the picture and the atmosphere is as genuine as it comes, truly inspiring and from our perspective there is a handful of businesses that we will contact to discuss partnerships.

PR & Social, baby
As any entrepreneur will know, by-lines and mentions are great but with social channels overtaking mainstream media, your ability to distribute meaningful owned content comes at the push of a button, the inclusion of a hashtag and the backlink of a blog, particularly where the Mayor's and other major brands impact is involved.

These actions are encouraged by the programme, as stated by Nick Hungerford (Co-Founder Nutmeg) 'Put your phones on silent but make sure to tweet like crazy, #VCinTECH2017'. Along with a fantastic panel, there was a social screen posting all mentions while it was live.

What struck me about the statement was that this all occurred in the British Embassy, an institution steeped in history, established by no other than the Duke of Wellington in 1814. On entry there are two busts…one of Napoleon and the other, The Duke. Despite Waterloo, a mutual respect. Similarly, what a pleasure it is to see an institution steeped in history embracing technology and presenting a panel of both French and British speakers…Pas de différence avec Brexit #LondonisOpen.

In that vein, this trip has inspired me further and given me confidence that no matter what is happening with inter-regional politics…entrepreneurs are a hardy bunch and with the growth of shared economy, unbelievably innovative ideas and determined individuals, business will boom!

Sincere thanks to the wonderful team at London & Partners, the Mayor of London, the sponsoring partners and of course my fellow cohort members in the Mayor's International Business Programme.